V-Project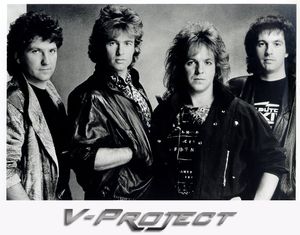 V-Project - a band originally formed by guitar player David Vaccaro in the late 80's with Bass player Mike McDonald, Drummer Derek Blevins (The Jon Butcher Axis), and vocalist Chris Post (Dillinger band).  
In the mid-90's Vaccaro resumed V-Project, now only as a studio band. V-Project first CD release titled Lost Demos featured Vaccaro playing almost all the instrumentation as well as recording and producing the CD right down to the artwork (some trivia...the Indiana Jones looking guy on the cover of the CD is actually a picture of Vaccaro on his front lawn Photoshopped into the layout).

Lost Demos is based around a series of  high quality home demo tracks he worked on primarily with multi-platinum selling vocalist Robin McAuley (Grand Prix, McAuley Schenker Group, Survivor, and recently a featured vocalist in the hit Las Vegas show Raiding The Rock Vault) Lost Demos also featured vocal and/or writing contributions by Chris Post (Dillinger), Dennis Gresham (Highboy 69) and multi-platinum selling vocalist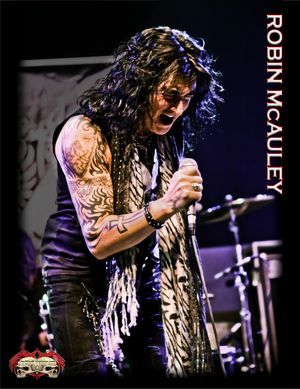 James Christian (House of Lords). 

Lost Demos received rave reviews both in the U.S. and in Europe (see reviews below).
In 2008 V-Project released a second CD titled NEW MACHINE, a blues-based hard rock collection of tracks all written by Vaccaro with collaborations on four tracks with McAuley. 
As with the Lost Demos CD, NEW MACHINE also received very positive reviews with McAuley fans delighted to hear Robin exploring some new vocal territory on the middle-eastern influenced track You Don't Care.   
Also notable on the CD, Vaccaro handles vocals on half the tracks.  Given that this is Vaccaro's first time carrying the lead vocal he does a commendable job with standout tracks on Disclaimer, Time To Move On and a cover of the Steve Miller Band's, The Stake.

 
---


Reviews - Lost Demos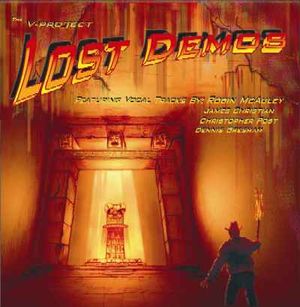 "The overall outcome of the album is astounding.....Lost Demos one of the finest albums of the year from this region or any other."  

-  Metronome Magazine, Boston
"These numbers aren't your usual melodic rock that you've heard a thousand times already over the last 15 or so years - instead they are of an electric/acoustic
relaxing quality that originally turned you on to the incredible material found on albums like Led Zeppelin 3 and 4 but brought more up to date without losing that bright, glowing, atmospheric style that new technology seems to kill these days."

- MetalliVille Webzine, Sheffield, England


"From the start, I was hit by "Only Friend", written by McAuley/Vaccaro/Post. It's universally relatable lyrics of gratitude, contrasting harmonies, percussion and Latin-style guitar make this one a keeper. "The Good Times", with its beautifully inviting guitar opening, is also impossible to resist."

- Review by Carol Anne Szel for Inside Connection Magazine, New York


"With songs melodic to the core, Vaccaro takes you back to an era when Rock wasn't about making a quick buck, but  songs written and performed from the heart. I don't know if David is looking for a label to release this CD, but if you ask me they should be standing in line to sign a contract."   

- Majestic Magazine, Holland


"Rattle Your Cage" with James Christian on vocals, a fast and rough hard
rock romp that mixes the contagious riffing of AC/DC and elements very close to House Of Lords, a song that I cannot stop listening to."
   
- Andrea Bertamino of FLASH Magazine, Italy

"A good collection of ballad and mid tempo pop rockers, made even better by some outstanding vocalists."  

- Melodicrock.com, Australia

"One suspects that a few labels might be beating on Mr. Vaccaro's door, and rightly so, for this is first class melodic hard rock. Oh, and extra kudos for the packaging."

- Andrew Paul, Hard Roxx online, UK  



Review - New Machine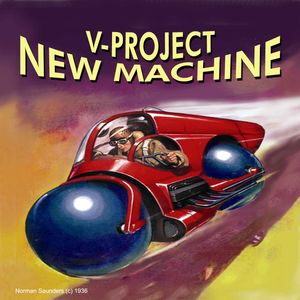 "V-Project's New Machine CD, Ambitious, Atmospheric, Dramatic, Eccentric, Outrageous!"-RobKast Radio


"Solid and unassuming, yet deceptively addictive, this is a hard rock album worth hearing."

- Metalstorm Magazine


"I like this CD very much, especially "Somebody Like You" and " You Don't Care". The production is good and the guitar playing great."

- Tom Werman, Music Producer • Cheap Trick • Ted Nugent • Motley Crue


"The New Machine works! These are great tunes for a backyard barbecue!"

- Das Rock Magazine


"V-Project is a solid disc, with some very good guitar work,  and  excellent  vocals."

- Hardrock Hideout

I think Vaccaro has hit pay dirt with the fi ttingly titled New Machine. Go ahead take a ride, you'll love it.

- Metronome Magazine

"This band contains two veterans of Rock, excellent musicians - guys who know what the real stuff is all about!"

- METAL TO INFINITY.COM


"All the songs on this release really rock. There's nothing over the top and it's just really good music that is well produced. It's got a really good 70's/80's vibe to it. That's when music was really fun to listen to and this CD brings that fun back to the listener. All in all, really good stuff."

- Rocknetwebzine.com


"All the songs are great with at least half going into immediate rotation on my playlist!"

- 24Rock.net